Warranty
We stand behind our work, and your satisfaction is our top priority. Our goal is to bring used home appliances out of disrepair and keep them working for a long time to come. We provide a comprehensive 90-day parts and labor warranty with all appliance repairs because we are dedicated to providing reliable service to our customers.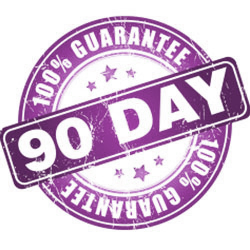 If you experience any issues within 90 days of one of our appliance repairs, please call us at (510) 230-2460 and we'll resolve the problem to your satisfaction. If one of our parts fails within 90 days of installation, we'll cover the cost of replacing the part and the associated labor costs.
Our standard practice is to obtain original parts for your appliance repair needs. However, if the original part is no longer manufactured, we guarantee that we will use the highest quality aftermarket parts available to us.
We aim for 100% customer satisfaction. No matter what your appliance repair needs are, it is our top priority to provide fast service, quality repairs, and competitive rates. Call us today at (510) 230-2460 or e-mail us and experience firsthand why we are a trusted source for appliance service in East Bay.