Pricing
We are dedicated to providing quality and affordable appliance repair services for our customers. Our initial service fee is $85. This charge covers the cost of bringing a technician to your home with a fully equipped service vehicle and the diagnostic fee. This fee will be waived if you approve the estimate and choose us for your repairs.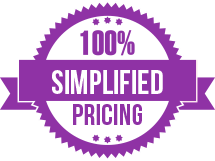 From there, our technicians utilize an industry-standard pricing guide to calculate the total price. Labor rates are priced by the job, not by the hour. This ensures that you receive the best deal for your appliance repair needs.
Our technicians will provide you with a detailed estimate for the cost of labor and/or parts before proceeding with repairs. There are never any hidden fees or gimmicks.
We do not charge additional fees for evening or weekend appliance repair service.
Special Cases
Parking: To deliver the best service to our customers, we cover the cost of parking up to $10. Please notify us if parking is an issue in your area.
Commercial Service: our service fee for commercial locations is $105.
Remote Locations: For service calls outside of our standard service area, we may apply a fee between $10 – $30 on top of the initial service fee. This charge compensates for the extra gas and time needed for our technician to drive to your location.
High-end brands & difficult to access appliances: Repairs for certain high-end brands or difficult to access appliances (stackable laundry for example) may incur an additional fee for service call.
If any of these special cases apply to your appliance repair service, you will be notified in advance.
When you call ASAP Appliance Repair, your satisfaction is of the utmost importance to us. If you have any questions about our pricing policies, please do not hesitate to contact us at (510) 230-2460 or via e-mail.